Welcome to OVEREADY Insider 78
Long time insiders will recall how we enjoy doing the impossible. This usually involves things like size and output. Never before have we addressed the humble push switch. Limiting ourselves to what already exists, you've been limited as well. In fact, yesterday the world had but 3 kinds of mechanical push switch:
Forward clicky – normally off, you half press for momentary on and full press for continuous on
Reverse clicky – normally off, you full press for continuous on and half press for momentary off
Momentary on – normally off, all presses are momentary on, release for off
Today we announce a 4th, the Momentary OFF (MOFF). Normally on, you press to interrupt power, then release for continuous on. MOFF offers mode change speeds faster than reverse clicky, without first having to turn the light on. Because the light is already on.
With standard drivers, this would leave you in mode 1 much of the time. So we also created Zero Mode. A power on state, but not necessarily power on behavior. Preceding mode 1, Zero Mode can be configured with LEDs off or with a low drain easy to see flash, the Locator Beacon.
Precision carved from brass and stainless steel (in Minnesota), MOFF features sub millimeter switch travel and half second off (recycle time to Zero Mode). So you'll be tearing through  0-1-2-3-4  0-1-2  0-1-2-3-4-5-6  sequences in no time. And wondering how you ever put up with conventional setups.
Introducing MOFF Speed Switch, with Zero Mode: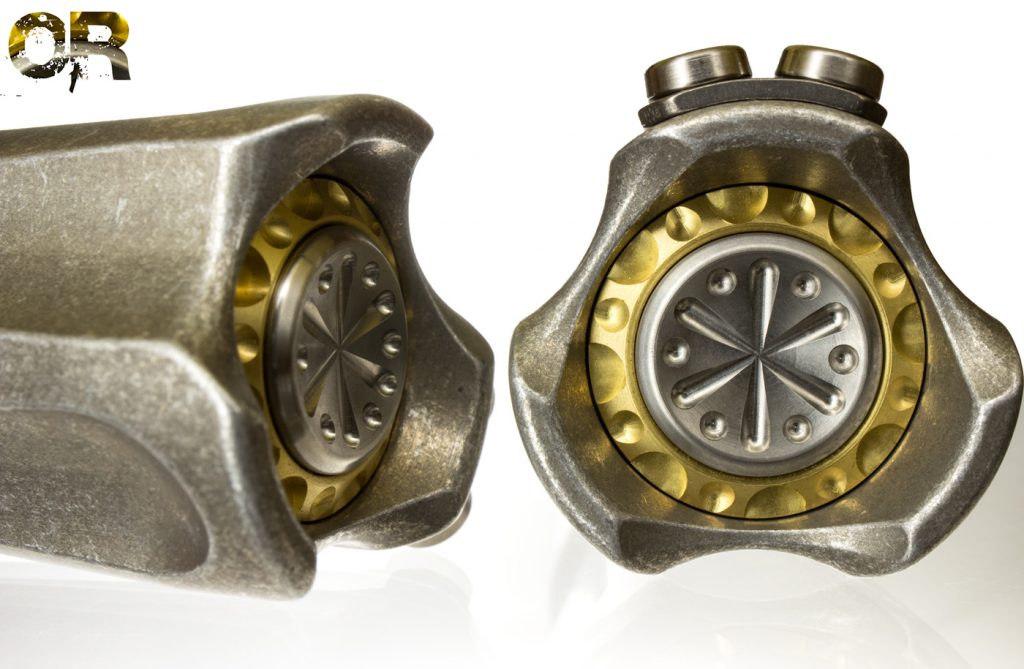 So what to put our futuristic MOFF Speed Switch into. FT bodies are already futuristic. What if there was an FT head to go with it, completing the package. A Future BOSS with a future switch. And with more 219B variety and availability than we've ever offered.
Introducing Future BOSS 35 with MOFF Speed Switch upgrade:
MOFF upgrades are also available on Brass and Copper models, including Vintage:
MOFF is compatible with all BOSS bodies but its not customer installable. So we're already working on an upgrade program. In the meantime, Zero Mode is built into many heads we've already shipped. With a few configuration changes, all v5.1 (371 v2.0 fw) BOSS heads support MOFF equipped bodies:
Notes
Triple E Heads are again ready to ship in XPL and 219B
Triple E Lights are again ready to ship in XPL and 219B
visit this page for videos and more information about MOFF
first meaning Forward Taper, FT now describes both FT Bodies and FT Heads. Together they make Future BOSS
first meaning Reverse Taper, RT now describes both RT Bodies and RT Heads. Together they make Retro BOSS